Large Format Printing
Double Shutter Images offers large format digital archival printing using the latest technology to produce outstanding colour and black & white prints. The studio is equipped to produce prints up to 24" x 60". Our workflow is of course fully colour calibrated (scanner, monitor, printer).

Photographic Printing
Popular archival photographic Premium Papers are available in different surface finish styles: Glossy, Smooth Glossy, Smooth Pearl, and Enhanced Matte.
For fine art, archival Giclée prints, our range of media includes textured Cotton Rag Fine Art and Fine Art Canvas. For photographic exhibitions and commercial large format prints we offer also Self Adhesive Vinyl with either a matte finish or a glossy finish.

Giclée Printing
Giclée printing is the technique associated with the production of fine art prints using digital imaging technology, pigment based archival inks, and associated fine art archival media. Giclée printing is exclusively done on high-end Cotton Rag Paper or Canvas. Many art galleries, photographic galleries, and museums (such as the Museum of Fine Arts in Boston) use this high standard technique for their art reproductions.

File Delivery Options and Standards.
All files to be printed should be "print-ready". For those files in need of pre-print editing (retouching, re-sizing, colour adjustments, etc.) please, see our "Scanninq, Retouchinq and Restoration" pricelist for applicable fees.
Our working space is Adobe RGB (1998).
We recommend all images to be 300dpi at output dimensions for optimum print results.
We accept the following image file formats: .psd and .tif, (best quality), .jpg and .pdf
(good quality).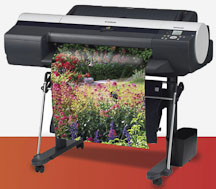 We print in archival quality on
the finest photo papers and canvas.